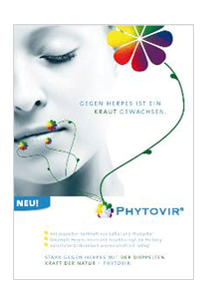 Following its partnership with GBT Pharma, this topical cold sore brand now has a market entry programme into Latin America and Europe underway.
Renowned for its antiviral and wound healing properties, Phytovir® has demonstrated positive outcomes from day-to-day use in Swiss pharmacies since its launch in 2003. It is also supported by scientific evidence from a number of clinical and open label studies.
The cold sore (or herpes labialis) is an infection of the lip, nose and mouth. An outbreak is characterised by small, painful blisters or sores on, or around the mouth. The condition is caused by the herpes simplex virus (HSV-1).
Sores generally heal within 2-3 weeks. However once the herpes virus has been contracted by a person it lies dormant in the facial nerves.
The sufferer can experience repeat outbreaks and there are a range of factors known to activate a recurrence including:
Illness such as a cold or flu
Stress
Fatigue
Physical injury to the mouth area and dental treatment
Exposure to sun, heat or extreme cold
Yet help is at hand with Phytovir®

Choose from:
Phytovir® Cream (5g)
Phytovir® Patch (14 patches per pack)
Phytovir® Lip Salve – provides treatment for cold sores with the addition of sun protection.
Phytovir® Composition
| Benefits | Ingredients |
| --- | --- |
| Wound healing | Sage leaves. 18.4 mg watery sage extract |
| Anti-viral | Rhubarb root 23 mg ethanolic Chinese rhubarb extract |
Phytovir® clinical and supporting evidence
Study
Highlights
R. Saller / S. Buechi / R. Meyrat / C. Schmidhauser
145 participants

Randomized control, 3 way trial, participants given sage preparation / sage combined with rhubarb preparation (Phytovir®) and a well known global cold sore brand

Combined Herbal Preparation for Topical Treatment of Herpes labialis. 2001;8:373-382
Results

Phytovir® demonstrated clinical efficiency equivalent to the market leading brand

Phytovir® has a good safety profile and is an effective alternative to other synthetic treatments

Phytovir® is less likely to create viral resistance
Read the abstract here: http://www.ncbi.nlm.nih.gov