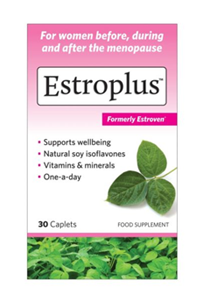 Estroplus™ is a food supplement specifically formulated for women.
It contains a carefully selected balance of vitamins and minerals combined with soy isoflavones to support the changing nutritional needs of women aged 30 and upwards.
Estroplus™ caplets are specially formulated to offer a gentle way to bridge any nutritional gaps and contain a blend of ingredients designed to support womens' wellbeing.
With B vitamins to aid the reduction in tiredness and fatigue, Estroplus™ also contains vitamin B6 which contributes to the regulation of hormonal activity and calcium which contributes to the maintenance of normal bone health.
Estroplus™
• Supports wellbeing for women
• Natural soy isoflavones
• A balanced blend of vitamins & minerals
• One-a-day caplets
Available in the UK from all good pharmacies.