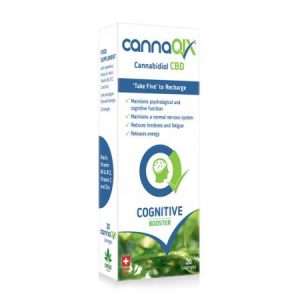 cannaQIX® is the first, unique standardised nutraceutical product containing organic CBD hemp extract, vitamins and zinc, formulated to:
Maintain psychological and cognitive function
Maintain a normal nervous system
Reduce tiredness and fatigue
Release energy
The people who would benefit most from cannaQIX® are those who:
May often feel stressed
Are exposed to high pressure in the work place
Have chronic ailments
Are elderly
Are students
The effect is achieved due to its unique synergistic formula containing standardised full plant CBD hemp extract and seed oil, vitamins, zinc and capsicum.
The product is well tolerated, sugar free, non-euphoric and has no potential for addiction. The standardised user-friendly dose and formulation allows precise dosing, ensuring a reliable and stable effect over several days.
The innovative buccal delivery system provides rapid absorption and high bioavailability.
The proprietary QIX-technology based delivery system contains capsicum which accelerates the blood circulation in the mouth enhancing the buccal delivery of the vitamins and zinc into the bloodstream.
The product is Swiss made and produced in a GMP (Good Manufacturing Practice) facility. The hemp is grown under GAP (Good Agricultural Practice) conditions.
For more information visit: https://cannaqix.com